The fund managing the wealth of the billionaires who own Lego A/S wants to buy more London real estate.
Undeterred by Britain's plan to exit the European Union, the $16 billion Kirkbi A/S fund earlier this year bought the Porter's Wharf office property in London's King's Cross district, marking its third real estate investment in the U.K. capital, it told Bloomberg.
"Some investors, including us, are a bit nervous about the development in the U.K.," Soren Thorup Sorensen, Kirkbi's chief executive officer, said by phone. "But there are areas in London that aren't linked to the financial sector."
The Lego fund's latest purchase is in an area dominated by technology, media and telecom companies, which Sorensen is betting will probably be less exposed to the exodus that may hit the London banking community once Brexit takes effect. Sorensen also says Kirkbi is big enough to sit out the short-term jolts stemming from the uncertainty surrounding the U.K.'s depature.
Buying up London property fits into the Lego fund's overall goal of expanding its real estate portfolio, which grew 14 percent last year to $1.2 billion. "We very much hope we will do more in 2018," Sorensen said. "We will look at Germany, Switzerland and the U.K."
"There may be more uncertainty in 2018 than we have seen in many years, but that also means that someone like us will be able to make good long-term investments," he said. The fund, based in western Denmark, prefers properties it can develop, he said.
Kirkbi Chairman Kjeld Kirk Kristiansen, the grandson of Lego founder Ole Kirk Kristiansen, is Denmark's second-richest man thanks to the popularity of the plastic bricks that have long been a staple of children's toy boxes. According to the Bloomberg Billionaires Index, he's worth about $5.3 billion. Kirk Kristiansen recently handed more control to his children Agnete Kirk Thinggaard, Sofie Kirk Kristiansen and Thomas Kirk Kristiansen, who each have a fortune of about $4.9 billion.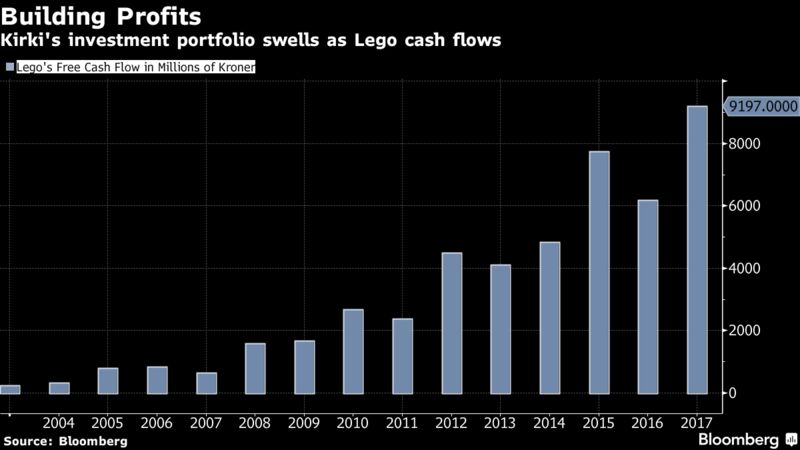 The fund also owns properties in Denmark, but doesn't see much potential for more investment there in the near term.
"The property market in Copenhagen has seen a lot of demand, so we think it's difficult to find projects that will give the returns that we want," Sorensen said.
Kirkbi's main assets are a 75 percent stake in closely held Lego, as well as the toymaker's trademarks. It also has a 30 percent stake in Merlin Entertainments Plc (which operates the Legoland parks), stakes in Danish firms ISS A/S and Falck A/S as well as other stocks and bonds.
Sorensen says he plans to be opportunistic when it comes to Kirkbi's stock investments this year.
"We're seeing rising interest rates and possibly also higher inflation due to pressure on labor markets in the U.S. and western Europe, and that gives more volatility in stock markets," he said. "For investors like us, it means that companies we looked at previously have come down to a price level where they are attractive for investment."
Comments
comments
Get More Of Real Estate

Subscribe to our mailing list and get interesting real estate stuff updates to your email inbox.
Thank you for subscribing.
Something went wrong.
Latest Price Performance of Indian Real Estate Companies Stocks