None of the 60-odd developers, who had applied to build affordable housing projects in Gurugram and Manesar under DTCP's (department of town and country planning) scheme, have received licenses for these projects till date.

DTCP had launched the scheme on land totaling 1,650 acres in the two cities, targeting three lakh affordable housing units.

City developers believe there is a demand for affordable housing, and an increase in supply will attract buyers, reviving the moribund real estate sector. Accordingly, they sought the state government's support, and single-window clearance to speed up the process.

Haryana amended it's Affordable Housing Policy 2013 in October 2017, to extend an existing cap of 300 acres for affordable housing projects in Gurugram district to 1,935 acres.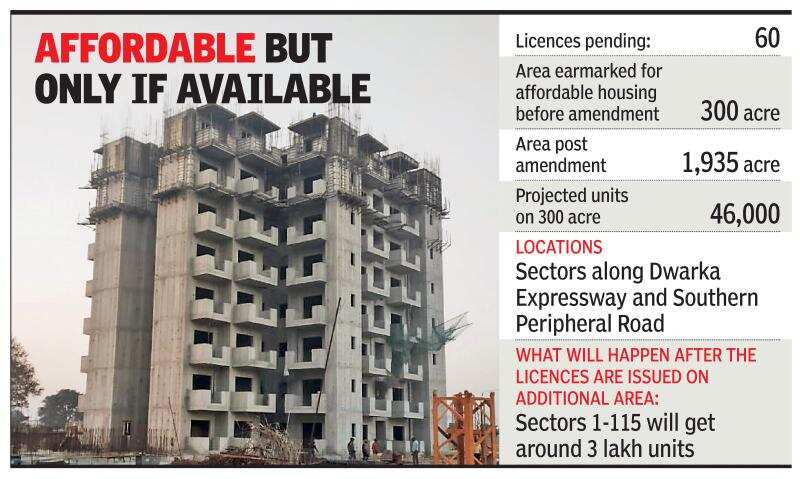 Based on the earlier cap, DTCP had already issued affordable housing licenses on 300 acres, on which around 46,000 units are being constructed in several sectors along the Northern Peripheral Road (NPR), also known as Dwarka Expressway, and Southern Peripheral Road (SPR).

Surender Singh, Director of GLS Group, one of the developers interested in the scheme, said he was hopeful around 2,000 affordable homes could be handed over in the next two years itself, but added that delay in issuing licenses will spell doom for the real estate sector. He said the government should approve licenses quickly so that it increases the supply of affordable housing and competition among developers.

Naveen Agarwal of Pivotal Group said, "Quick approvals will benefit buyers, as they will have more choice." He added that for large sections of the salaried middle-class, who are unable to buy a home, affordable housing offers options.

Navin Raheja said the state government should hasten infrastructure development in new sectors. "The government should help developers to contain the cost of affordable homes by reducing approval time," he added.


When approached for a comment, DTCP Director General K M Pandurang promised to look into the matter. 

Initially, Gurugram district was divided into three zones — Gurugram, Sohna, and Gwalpahari — each with their own development plan, with 300 acres between them for affordable housing. 

In January 2018, the development plans were amended to extend affordable housing to 1,650 acres in Gurugram-Manesar, 15 acre in Gwalpahari and 270 acres in Sohna. 

Eventually, sectors 1-115 of Gurugram are expected to house around 2.97 lakh affordable flats, with a further 48,600 in Sohna and 2,700 in Gwalpahari. 
Economic Times, Delhi/NCR
Comments
comments
Get More Of Real Estate

Subscribe to our mailing list and get interesting real estate stuff updates to your email inbox.
Thank you for subscribing.
Something went wrong.
Latest Price Performance of Indian Real Estate Companies Stocks