The real estate act is fuzz when it comes to parking spaces, especially open parking slots. We give you a primer on how builders often take advantage of this and leave homebuyers cribbing and cursing, and how you can protect your interest!
Did you know that depending on the project, you pay Rs 3-10 lakh for parking slots when you buy a house! Yet, there is no guarantee your parking slot won't be tucked away in some remote corner of the society.
Take the case of Vikash Bhatia. The Builder-Buyer Agreement mentioned a covered-car parking slot and Vikash paid Rs 3 lakh for a covered car parking in his highrise society.
But, to his dismay, he found that he was offered an open space to park his car, as all the car parking slots near his tower were allocated. Finally, he got a covered space in the basement, which was far from his tower. Now he parks in the open space near his house.
Builder-buyer agreement
As a buyer, you must make sure that the Builder-Buyer Agreement mentions covered-car parking if you are paying for it. In one instance, a buyer found the agreement stated an open car parking, which he got changed at the time of registration to covered parking, which he paid for. The stamp paper to register your house must mention covered-car parking.
Even when it is mentioned in the Builder Buyer Agreement, the exact slot is often not mentioned. The buyer must get this allotted from the maintenance office of the builder.
There have been instances where the same parking slot was allocated to two residents. This is a clear violation of the law.
Parking slot
When a new society is formed, there is plenty of parking space. The first allottees get the best slots, as there is no rule that the slot must be in the same tower as the flat. As the occupancy increases, the number of cars also grows. Mostly, you get car parking slots on a "first come, first served" basis, but some societies mention the car parking slot for each flat before a buyer moves in.
Rules in realty act
Open-parking spaces are part of common areas as per the Real Estate (Regulation and Development) Act, 2016. The law also defines garage as a place within a project having a roof and walls on three sides for parking any vehicle but does not include an unenclosed or uncovered parking space such as an open parking area.
"There is no comprehensive policy related to parking space in highrise societies. The realty act treats open spaces as part of common areas, which cannot be sold. We take the view of both the buyer and builder in case of dispute related to issues like parking. But we can't take specific action regarding the allocation of parking space in the absence of any comprehensive parking policy. However, we will act where the same parking space is allocated to two buyers or any other issue troubling a homebuyer," Balvinder Kumar, member of UP RERA, says.
Parking charges
At the time of buying a flat, you get two options for parking — open and covered.
However, residents cannot enjoy exclusive rights on open car parking slots. Whoever comes first can park their car depending, on the availability. On the other hand, residents who pay for covered parking enjoy exclusive rights on the covered slots. In the Nahalchand Laloochand Pvt Ltd versus Panchali Co-operative Housing Society case in Mumbai, the Supreme Court upheld the Bombay HC order which ruled that open parking spaces cannot be sold by a builder.
As per the building bylaws, a builder must provide parking space in a housing society but there is no standard rule related to allocation and, often, this becomes a bone of contention among residents.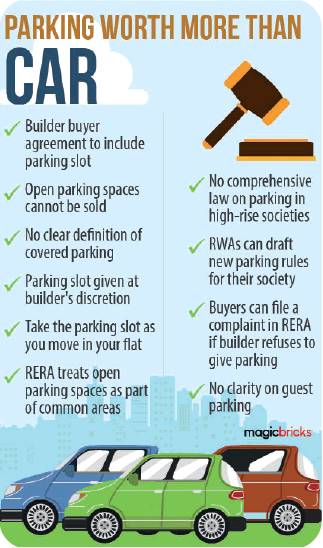 Aditya Parolia, a Supreme Court lawyer, says: "The law is not clear on parking spaces in highrise societies. Builders can sell covered parking spots but it varies from state to state. Some builders mention parking spots for owners and ensure that it is done transparently while others leave it upon the residents to decide or distribute on a 'first come, first served' basis. RERA, too, is not very clear on parking spaces. In a state like UP, builders can charge for stilt parking but in states like Haryana, they cannot. Buyers must check the Builder-Buyer Agreement specifically mentions the parking slot if they are paying for it. The builder must provide parking if he has charged for it."
Source-: Ravi Kumar Diwaker, Times Property, The Times of India/Magicbricks
Comments
comments
Get More Of Real Estate

Subscribe to our mailing list and get interesting real estate stuff updates to your email inbox.
Thank you for subscribing.
Something went wrong.
Latest Price Performance of Indian Real Estate Companies Stocks