Remember the Jetsons? Remember thinking, man I'd really like to have me one of those whenever they had one of their impossible gadgets on screen? (Meal-vending machines, anyone?)
Luckily for us, we're at the cusp of a decade where the impossible is starting to look very possible. We've got smart gadgets, yes, but now we've got smart ways of controlling those gadgets, such that you could be sitting on vacation in the Maldives and fiddling around with your electronics at home, as long as you're hooked up to the internet.
Yes, the internet is a wonderful thing. But there's plenty more smart gadgetry to make living at home easier – and not all of it involves the internet. Read on to dig the smart new things being turned out to make our homes utopias!
LG's SmartThinQ Fridge
Buying groceries. Its a pain, right? You have to make a list before you go to the supermarket and more often than not, you end up forgetting something or the other. It'd all be much simpler if you could quickly take a dekko at what's in your fridge on your smartphone, right?
Which is exactly what LG did with their SmartThinQ Refrigerator. The refrigerator comes with a smartphone app for both iOS and Android, which connects to the fridge via the internet/Wi-Fi. Using this app you can keep track of all the contents in the fridge. All you do is scan/enter the list of foods you purchase at the beginning of the week, and through the week the app gives you suggestions for recipes using the content of your fridge. It also keeps track of when the contents of your fridge are about to expire. And if there's a problem with your fridge, it sends you alerts on your phone via the app. Watch how it works here.
You could also use the fridge as an entertainment device – you can watch videos, view photos, listen to music or check the weather, all using the LCD screen on the fridge, but you'd have to ask yourself why, if you can afford this fridge, you couldn't get yourself a simple iPod, because at a hefty $3500, this fridge ain't cheap.
Learn more about Smart ThinQ  here.
Philips Hue
Lighting. Its probably the most inflexible aspect of your home. You can buy yourself bulbs of different colours, but its always just one colour at a time. Getting from ordinary everyday life to party mode to festive mode is difficult when you have lights that can only ever be one colour at a time.
Philips' smart lighting system, Hue, changes that. They're smart bulbs, which hook up to a wi-fi system and can be controlled through your smartphone. Philips has its own app for the bulbs, but as users have discovered the limitations of the original apps, they've created their own apps to maximize the potential of Hue. You can watch it in action here.
Using these bulbs, you can create any kind of light setting for your home, at any kind of brightness and warmth. And by any, we mean any. As in literally, any colour you like. It's the kind of lighting system guys like Pink Floyd would have died for back in the 'seventies.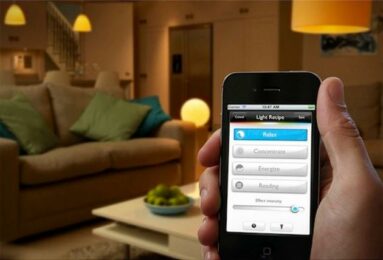 You can also program your light bulbs to switch on and off, to fade in and out – everything. The best part? You don't need to rewire your home to get these bulbs up and running.
Scanomat
Yeah okay, instant food meals made to go by a machine in your home isn't a thing yet (but it might be very soon) so lets talk about coffee in the meanwhile.
Scanomat is for coffee nerds. It's for people who speak the mystical language of Brew and think Starbucks is overrated.
Like everything on here, Scanomat hooks up to your smartphone via an app. Using this app, you can customize the kind of coffee you want each morning, straight from your bed. You can also programme your machine to brew this same coffee each day at a fixed time, but if you feel like a change, its easy enough to use the app to change your brew for the day.Watch it brew, all on its own!
iRobot Roomba/Scooba/Braava
Who loves dust bunnies? Is that silence we hear? Right. We clean, therefore the dust bunnies aren't.
But dust bunnies have this funny way of congregating in all those tricky little corners you can't get to. Or your maid refuses to get to. Either way, dust bunnies are haunting you.
Or were, until iRobot Roomba turned up. It's an autonomous robotic vacuum cleaner that navigates its way across your home snacking on all your detritus, without bumping into any of your furniture.
If you think your home needs something stronger than a mere vacuum cleaner to get your home clean, iRobot also makes the Scooba, an automated floor-washing device, and Braava, an automated floor-mopping device. The two can be set to work together to get your floors sparkling clean.
Now, unlike the other gadgets on this list, these robots can't be hooked up to a wifi system or controlled by your smart phone, but it does allow you to set up a schedule for cleaning the house which it follows to the T until, presumably, you reprogram it or its batteries die.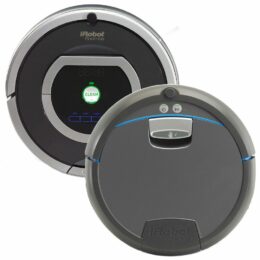 They're no Rosies, but hey, who wants a robot lecturing you about your hygiene habits anyway?
Belkin's WeMo Switch/Visible Energy Monostrip
But what if you don't want to buy a whole bunch of new appliances to redo your home? What if you can't afford the ridiculous thousand dollar price tags attached to all things smart? What if you just want a kind of universal remote for all your appliances?
Belkin's WeMo Switch does just that. Plug it into your socket, plug your device in and switch it on and off using your smart phone.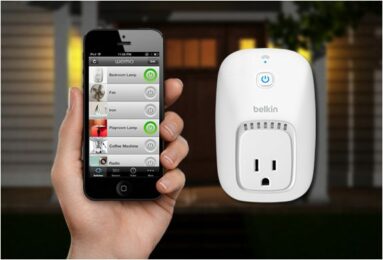 The Visible Energy Monostrip on the other hand, is for the environmentally conscious (or the electricity bill misers). It collects and saves data on the energy usage of your device which allows you to judge which of your devices consumes the most power – and so needs to be switched off. Switching off is easy, you can do it over the internet using the app and you can set up a schedule to do so.
The key difference between the two, however, lies in the fact that the Visible Energy Monostrip requires you to retrofit your plug points. In other words, its pretty hardcore – its for die hard environmentalists, not your average I-recycle-as-a-hobby-joe. For the true couch potatoes, Belkin's WeMo switch is a better deal.
So go ahead, make your day (easier). And if you're worried about not having a home to smarten up, well go ahead and use our smartphone apps for Android and iOS to find yourself a home.
Comments
comments
Get More Of Real Estate

Subscribe to our mailing list and get interesting real estate stuff updates to your email inbox.
Thank you for subscribing.
Something went wrong.
Latest Price Performance of Indian Real Estate Companies Stocks